With a Kristen twist.
The Blythe in question is none other than Blythe Danner (Gwyneth Paltrow's mom who has some recipes featured in
GP
's cookbook
My Father's Daughter
).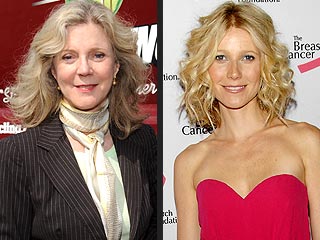 There is a healthier blueberry muffin in the book that is vegan, but I didn't have the ingredients for that one.
I felt the need to make blueberry muffins today because I was gifted a bag of great big beautiful blueberries and, well, muffins were suggested and I'm a sucker for suggestions.
I did change the recipe to make it dairy-free. I subbed canola oil for the butter (a 1:1 swap) and soy milk for the milk. I used organic unsweetened apple sauce for the eggs (1/4 cup per egg) and I added about 1/2 tsp of lemon zest because I had fresh lemons and lemon and blueberry is a match made in heaven.
These were the best blueberry muffins I have ever eaten. As of the writing of this post I have eaten 4 and will probably get another as soon as this is posted. Easy, fast recipe...just go buy the book...you won't be disappointed.